Click carefully this Valentine's
Stay safe from scams designed to ensnare the lovestruck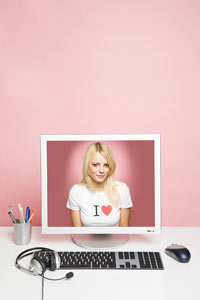 They say Valentine's Day is a marketer's dream. But it can also present an opportunity for cybercriminals to profit from the Romeos and Juliets of the world through various scams. Here are some of the more common pitfalls to look out for on this day of romance.
Poisoned love
Scammers anticipate a surge in online searches for red roses, chocolates and other Valentine's Day treats. They capitalise on this by influencing search results through SEO poisoning. Using websites tagged with keywords like 'love', 'romance' and 'Valentine's', they push malicious sites higher up the search rankings so they are more likely to be clicked on. These dodgy sites promise amazing freebies but instead infect your PC with spyware or viruses.
Dating scams
Targeting those looking for love, cybercriminals pose as singles on dating sites, even using photos stolen from genuine profiles on social networking sites to seem more realistic. They build relationships with unsuspecting online daters, before eventually asking for money. At first the demands may be small – such as mobile top-ups so you can text each other. Over time their requests grow (plane tickets, cash, and so on) until the relationship creates a sizeable dent in your bank account.
Phishing for compliments
Phishing refers to when scammers send official-looking emails to trick victims into divulging personal information. During Valentine's, cybercriminals tailor their approach, perhaps posing as a florist to request credit card information in order to complete your delivery. The email will include a link to a site where you can enter the necessary card details. Clicking on this link may mean you're sending information directly to the scammers.
Malicious links
Cybercriminals have crafted a variety of spam emails that may appear to be helpful or legitimate. Email subjects may read 'Valentine's gift that will take her breath away', or 'Quick and Easy Valentine's Day Gift', for example. Clicking on links in spam messages may redirect you to a malicious website or leave your computer vulnerable to attack.
Love from your secret admirer
Everyone loves a Valentine's card from an admirer or that special someone. Scammers capitalise on this by using e-cards to spread online threats. The e-card may even show the name of a friend or tempt you into opening it by claiming to be from a secret admirer. If you open an e-card from an unknown sender, you could be leaving your computer open to all sorts of viruses and spyware.
My advice is to always be savvy and aware of the sites you are visiting. If you're on a retailer's website, look for a padlock icon and 'https' in the address bar of any online transactions pages. Be cautious about clicking on links from unfamiliar sources, and don't be tempted by any outrageously good offers as these are likely to be too good to be true. Follow these tips and you'll help ensure cybercriminals don't steal your heart this Valentine's.
latest tech & gadget videos
What was the best new phone launched at MWC 2014?
Thanks for being one of the first people to vote. Results will be available soon. Check for results
Samsung Galaxy S5

6,054 votes

Sony Xperia Z2

1,767 votes
Total Responses: 9,457
Not scientifically valid. Results are updated every minute.