Don't let the January blues make you drop your guard
Holiday scams are on the rise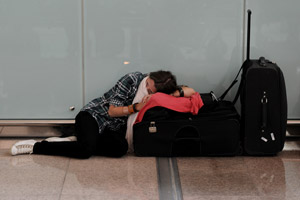 The start of a new year brings with it many things – resolutions, train delays and short, dark winter days to name a few. It's no surprise that thoughts turn to holidays and many of us succumb to the temptation of searching for a bargain getaway.
Of course wanderlust travellers aren't the only ones getting excited. Online scammers know this is a boom period too, with increased opportunities to con online shoppers out of their hard-earned cash.
New research from PC Tools has shown that 46% of Britons believe they'd give out their personal or financial information if the promise of a free prize were offered. In fact the research highlighted free prize offers as one of the scams Britons were most likely to fall for.
Scammers will possibly look to flood various forums, social media sites and search engine results through SEO-poisoning with links for fake travel offers and bogus timeshares. The danger is that you may end up paying for something you will never receive.
That dream holiday by the beach might be put in jeopardy by greedy online scammers, so be on the guard if you're on the hunt for holiday bargains.

Protecting yourself can be simple. First, treat any outrageous offers with a heavy dose of realism – if it's too good to be true, it probably isn't what it seems. Don't be tempted to click the link or provide your details to secure the offer.
Second, you should know who you're dealing with - online scammers have become adept at creating emails and sites that look genuine. Look for official addresses and telephone numbers, and check you're looking at a secure site by looking for 'https' in the address bar. A padlock should be visible there, too.

The January blues only last for a few weeks, so being savvy about how and where you shop for your next dream holiday will ensure you're sipping mojitos by the beach instead of being stung by the sour taste of an internet scam any time soon.
latest tech & gadget videos
What was the best new phone launched at MWC 2014?
Thanks for being one of the first people to vote. Results will be available soon. Check for results
Samsung Galaxy S5

6,087 votes

Sony Xperia Z2

1,780 votes
Total Responses: 9,512
Not scientifically valid. Results are updated every minute.