Mobile network Three offers unlimited EU data for £5 a day
But is that still too pricey?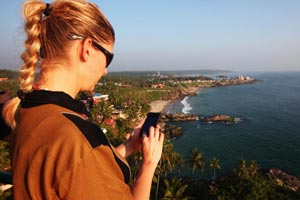 If you've ever been stung by a huge phone bill after returning from holiday, mobile network Three has today taken a step to make sure this never happens again.
Starting from today, Three pay monthly customers will be able to enjoy unlimited data while holidaying in the EU for just £5 a day.
All networks are lowering their data roaming prices to fall in line with the EU data cap voted for by the European Parliament, though this doesn't have to start until 1 July.
The cap ensures that data will cost no more than 70 cents (around 56p) plus VAT per MB (dropping to 20 cents by 2014). Three's offering has no fair usage policy so you're free to browse and stream to your heart's content without worrying about megabytes, though the network admits that streaming may not be as good as on its UK network. Tethering isn't included, either.
While this is a great deal for serial Facebookers, people just wanting to check in every now and then might not get their money's worth. Plus it's still pretty pricey – a seven day holiday with internet usage would cost you £35.
Other networks have unveiled their data costs ahead of the 1st July deadline too. 'O2 Travel' will see you paying £1.99 a day for up to 25MB of data – previously charged at a whopping £3.07 per MB. You'll also only pay a 50p connection charge for calls, with outgoing calls then going onto your bundled minutes and incoming calls free for up to 60 minutes.
As for Vodafone, it has launched its EuroTraveller service that allows you to use your tariff minutes, texts and data abroad for £3 a day – if you don't use your phone, you aren't charged.
While we wait for the other networks to show their cards ahead of 1 July, one thing's for sure – we'll all be paying a lot less for data in Europe very soon, if not immediately. The only question is, what took everyone so long?
Nik Taylor

Nik Taylor is a co-editor of MSN Tech & Gadgets, where he works alongside fellow editor Verity Burns to keep the site up to date.
Verity Burns

Verity Burns is the co-editor of MSN Tech & Gadgets, teaming up with Nik Taylor to produce features and blogs.
What was the best new phone launched at MWC 2014?
Thanks for being one of the first people to vote. Results will be available soon. Check for results
Samsung Galaxy S5

6,045 votes

Sony Xperia Z2

1,767 votes
Total Responses: 9,448
Not scientifically valid. Results are updated every minute.