Microsoft shows off Windows 8 Metro at BUILD
Microsoft takes the reigns off Windows 8 and demonstrates some of its new features at its BUILD event.
Watch the opening keynote online now
BUILD is a new Microsoft-hosted event that is held September 13-16 in California, and although it's primarily aimed at developers it's our first opportunity to take a closer look at Microsoft's next operating system - Windows 8.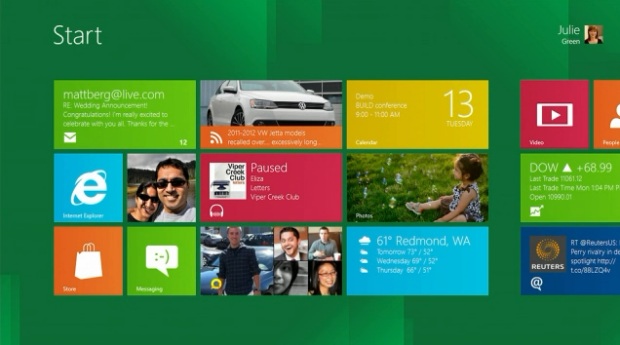 "We reimagined Windows," said Steven Sinofsky, president of the Windows and Windows Live Division at Microsoft, in his keynote address to the thousands of developers in attendance. "From the chipset to the user experience, Windows 8 brings a new range of capabilities without compromise."
For Windows 8 screenshots click here

Watch the opening keynote online now



Before previewing the Windows 8 Metro interface, Steven put Windows 8 into context by explaining the journey that has got us to where we are today. Some of these highlights include:
Windows 7 approaching 450m copies sold

Windows 7 usage is now greater than Windows XP usage

There have been in excess of 1500 product changes since launch of Windows 7

Microsoft also delivered an update to their Internet Explorer web browser - Windows Internet Explorer 9

What's new in Windows 8?

During the first keynote speech Microsoft highlighted a variety of new features in Windows 8, including the following: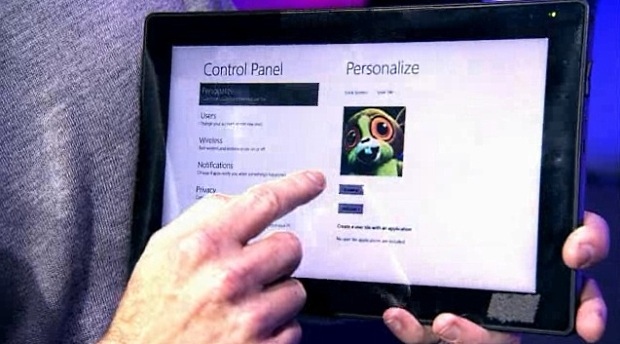 Touch-first user interface

Metro style. Windows 8 introduces a new Metro style interface built for touch, which shows information important to you, embodies simplicity and gives you control. The Metro style UI is equally at home with a mouse and keyboard as well.

Touch-first browsing, not just browsing on a touch device. The best example on display at BUILD was the demo of Internet Explorer 10, proving that Windows 8 will provide a fast and fluid touch-browsing experience.

Powerful, connected apps

Powered by apps. Metro style apps built for Windows 8 are the focal point of your experience, filling your entire screen so there are no distractions.
Apps can work together. Apps communicate with each other in Windows 8. For example, you can easily select and email photos from different places, such as Facebook, Flickr or on your hard drive.

Your experience syncs across your devices. Live roams all the content from the cloud services you use most — photos, email, calendar and contacts — keeping them up-to-date on your devices. With SkyDrive, you can access your files, photos and documents from virtually anywhere with any browser or with Metro style apps in Windows 8.

The best of Windows 7 (and then some)

The best of Windows 7, only turbo-charged for a new generation. Windows 8 is built on the rock-solid foundation of Windows 7, delivering improvements in performance, security, privacy and system reliability. Windows 8 reduces the memory footprint needed — even on the lowest-end hardware — leaving more room for your apps.
For those who push the limits of their PC, Windows 8 features an enhanced Task Manager and Windows Explorer and new, flexible options for multimonitor setups.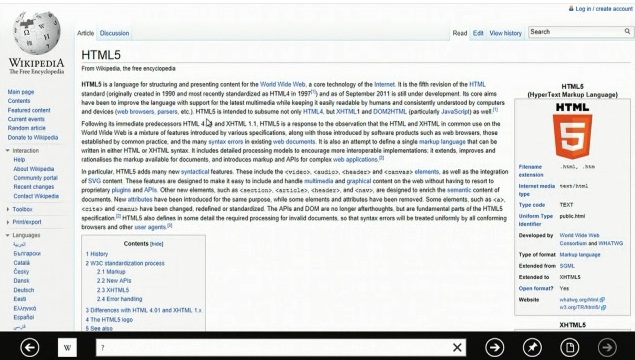 Internet Explorer for Metro
Internet Explorer 10 offers a chrome free browsing experience. Stephen joked how the new immersive browser was "completely chromeless" - and as you can see from the
screenshot, the screen is clean, uncluttered. All you see is the webpage.
IE10 will ship with Windows 8 and like its predecessor is built fully with HTML5 technology. It comes in two different flavours; Internet Explorer for Metro (which is designed for use with touch interfaces) and Internet Explorer for the classic Windows interface (which will use keyboard and mouse).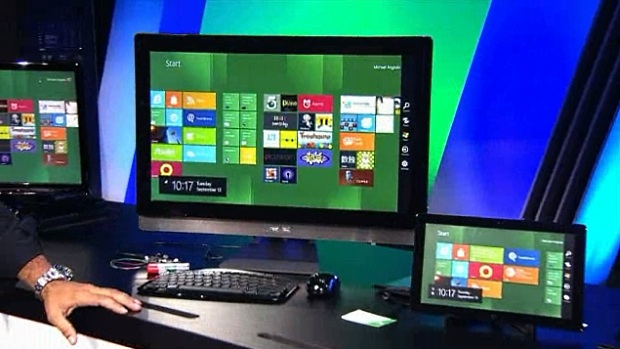 Support for new hardware
One Windows — many shapes and sizes. Support for ARM-based chipsets, x86 (as well as x32 and x64) devices, touch and sensors means Windows 8 works beautifully across a spectrum of devices, from 10-inch tablets and laptops to all-in-ones with 27-inch high-definition screens.

Always connected. With Windows 8, new ultrathin PCs and tablets turn on instantly, run all day on a single charge and stay connected to the Internet so your PC is ready when you are. Next-generation system on a chip (SoC) support will also enable greatly extended standby and low-power states.

Tap the full power of your PC. Windows 8 runs on PCs and is compatible with the devices and programs you use today on Windows 7, without compromise, to deliver the performance you expect of a PC.
Watch the opening keynote online now


More on Windows 8

First Windows 8 screenshots
Windows 8 promises fast boot times
Watch more Windows 8 videos
Are you sure you want to delete this comment?