The fastest broadband in Europe by 2015?
Our columnist Duncan Jefferies hopes Mr Hunt will get everyone connected first.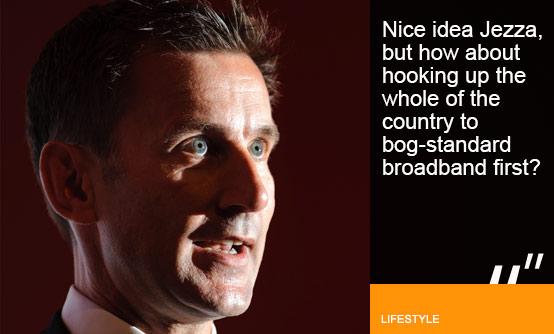 Like his Top Gear namesake, Culture Secretary Jeremy Hunt is obsessed with speed. During a speech in East London today he said he wanted Britain to have Europe's fastest broadband by 2015. An ambition which begs the response: Nice idea Jezza, but how about hooking up the whole of the country to bog-standard broadband first?
Dial-up! In 2012! It's the equivalent of having to ride to work on a Penny-farthing.
Although most people in urban areas now have access to half-way decent broadband speeds, many in the countryside still lack a basic 1Mbps connection. That means no iPlayer, no online gaming, no Skype – all the wonders of the web 2.0 world are but a dream to these poor folk. In some cases, they're still using 56k modems. Dial-up! In 2012! It's the equivalent of having to ride to work on a Penny-farthing.
When HTML 5, which allows for uber-pretty and super interactive websites and online apps, becomes commonplace the digitally destitute are going to be left even further behind. Already many children in rural areas struggle with their homework due to the lack of a decent home broadband connection. Running an online business is all but impossible. This digital divide between town and country will only become starker if broadband speeds don't improve.
There is a knock-on effect on housing too, as people are often unwilling to move to areas that are currently excluded from the digital revolution. In extreme cases, families have even been forced to move home in order to get access to a decent broadband connection – a whole new spin on the term 'digital nomad'. The long-term impact of slow broadband speeds on rural economies is therefore huge.
That's not to say I wouldn't welcome faster broadband. Even though I live in London, one of the largest cities in the world, my 24Mbps broadband connection usually maxes out at around a quarter of that speed, thanks, I imagine, to the ageing fixed line telephone cables that connect my house to the internet. It's like paying for a 1000cc motorbike, only to find it has a speed limiter permanently fitted.
"only two in a thousand British households having signed up for the Usain Bolt of broadband"
This is slowly changing, however, as planned network upgrades begin to kick-in. A recent survey by Ofcom showed that broadband speeds have nearly doubled over the past three years. And several companies now offer fibre-optic broadband packages that provide speeds of up to 76Mbps.
We're still lagging behind many other European countries in terms of uptake of ultra-fast 100Mbps connections though, with only two in a thousand British households having signed up for the Usain Bolt of broadband, according to the EU's Digital Agenda scoreboard.
In that sense, Jeremy Hunt is right to push for faster speeds by 2015; we risk being left in the European slow lane otherwise. But having the fastest broadband in Europe should not take precedence over getting the whole country connected first.

Duncan Jefferies is a freelance technology journalist who specialises in tech, travel and video games. Follow Duncan on Twitter @duncanjefferies.
Do you agree? Would you prefer superfast broadband in big towns and cities, or wider coverage throughout the UK? 
Have your say in our MSN UK poll

Let us know your thoughts in the comments section below. Join the debate on Twitter using the hashtag#socialvoices
Welcome to #socialvoices. This is the home of sharp writing, opinion and social debate on MSN. Jump into the comments, tweet us with the hashtag. Join in.

No tweets available. Please try again later